---


Johann was introduced to photography while still at school. At university he joined the student photographic club of the Potchefstroom University.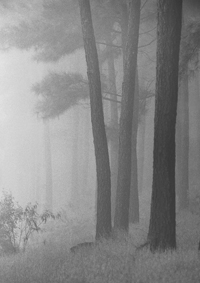 "Bome in mis - 1977" He received his first salon acceptance in 1977 for a monochrome landscape photo called "Bome in die mis"(trees in the mist). For the next 20 years, Johann concentrated on black and white photography using his own darkroom.
Photographic Achievements
In 2001 he joined the Vereeniging Photographic Society and started working in colour following a combined film and digital workflow which involved using the C-41 film development process and using a dedicated film scanner to digitise the film for further digital development.
In 2002 Johann joined the Photographic Society of South Africa (PSSA) and successfully applied for his Licentiateship (LPSSA) in digital prints with the Society. In 2006 Johann became an Associate (APSSA) of the Photographic Society of South Africa and in 2011 he successfully applied for his Fellowship (FPSSA) with the Society.
Over the years Johann participated in many national and international salons and received more than 300 salon acceptances. Some of the outstanding achievements are:
6 PSSA silver medals (category winners in PSSA national salons);
3 PSSA bronze medals (winners in PSSA special competitions);
Several second place medals in PSSA national salons and;
numerous certificates of merit
Although Johann is not dedicated to participation in the international salon scene, he occasionally participates with good results. Some of his highest international achievements are
A FIAP ribbon in the 2010 Holland circuit salon
Several Certificates of Merit awards in international salons including the Holland circuit salon and the China 13th International Photographic Art Exhibition
Johann once participated in the Trierenberg International Super Circuit with 24 photos and received a total of 71 acceptances for these 24 photos.

"Boom langs die N1"In 2013 Johann was awarded the PSSA Marike Bruwer memorial trophy for his visual art photo titled "Boom langs die N1".
In 2013 Johann was invited to join the international judging panel for the China 15th International Photographic Art Exhibition.
In 2014 he received a fellowship (FRPS) form the Royal Photographic Society.
Johann is a currently a member of the PSSA honours judging panel
He is an honorary member of PSSA.
Management Achievements
In 2002 Johann was elected to the management committee of the Vereeniging Photographic Society and in 2004 he was elected as chairman of the society. He held this position until 2009 when he had to resign as a result of his involvement in the management of the Photographic Society of South Africa. In 2012 Johann was re-elected as Chairman of the Vereeniging Photographic Society, a position he still holds.
In 2007 Johann was elected to the Board of the Photographic Society of South Africa as a regional director. Johann held this position until 2011 when he was elected as a national director of PSSA.
In 2009 Johann was elected as 2nd vice president of PSSA and in 2010 as 1st vice president of PSSA. The positions as 1st and 2nd vice presidents of PSSA are normally held for a 2 year period each, but Johann only held these positions for one year each as a result of the early retirement of the previous 1st vice president.
In November 2011 Johann was elected to the position of President of PSSA for a 2 year term. His term as president ended in November 2013. Currently Johann is a national director of PSSA and member of the executive committee.
Lectures
Johann is technically inclined and loves to share his knowledge. As a result he gets invited to lecture at club, regional and national congress events on a regular basis.
In 2012 Johann was invited as a special guest speaker to one of the Nikon Pro Talk seminars on the topic Creative Landscape Photography.
Johann also delivered a lecture on landscape composition at the 2012 Africa Photo and Film Expo – the largest photography event in Africa.
In 2013 Johann presented a lecture at the CPA Master Class in China. The topic was Principles of Composition. Later in 2013 he also presented a version of his Creative Landscape Photography lecture at the 2013 China Yixian County Photography Festival.
Other lecture topics presented over the past couple of years include:
Introduction to photographic composition
Composing the landscape
3D Photography – basic techniques
Introduction to creative infrared photography
Astronomy concepts for photographers
Night photography – star trails
Night photography – creative painting with light techniques
Principles of monochrome photography for digital photographers
The Zone System for digital monochrome photography
Understanding Microsoft Windows for photographers
Non-destructive photo editing in Photoshop
Working with layers and masks
The Photoshop building blocks (layers, masks and blending modes)
Understanding embedded profiles and colour management
Calibrate your digital photography workflow
Using PicturesToExe and Audacity for audio visual presentations
Advanced animation Techniques in PicturesToExe
Confessions of a photo manipulator
Johann is a founding member of the landscape workshop group Photoparadise.org and hosts landscape workshops and safaris on a regular basis.