Flight MN 493 Departed on Time - 3 things to remember when planning a Star trail photo session
Published on: 23rd Sep 2016
In Tutorials
We decided to go camping in Pilansberg National Park for the last weekend of August. As this was also the "Dark Moon" time of the month (moon rising will be after midnight), I was hoping to also include a star trail evening as part of the camping experience. I've built up quite a collection of star trail photos over the past couple of years but are still striving for that illusive perfect star trail. Hopefully one day all the elements will work together to give me the opportunity to capture it.
---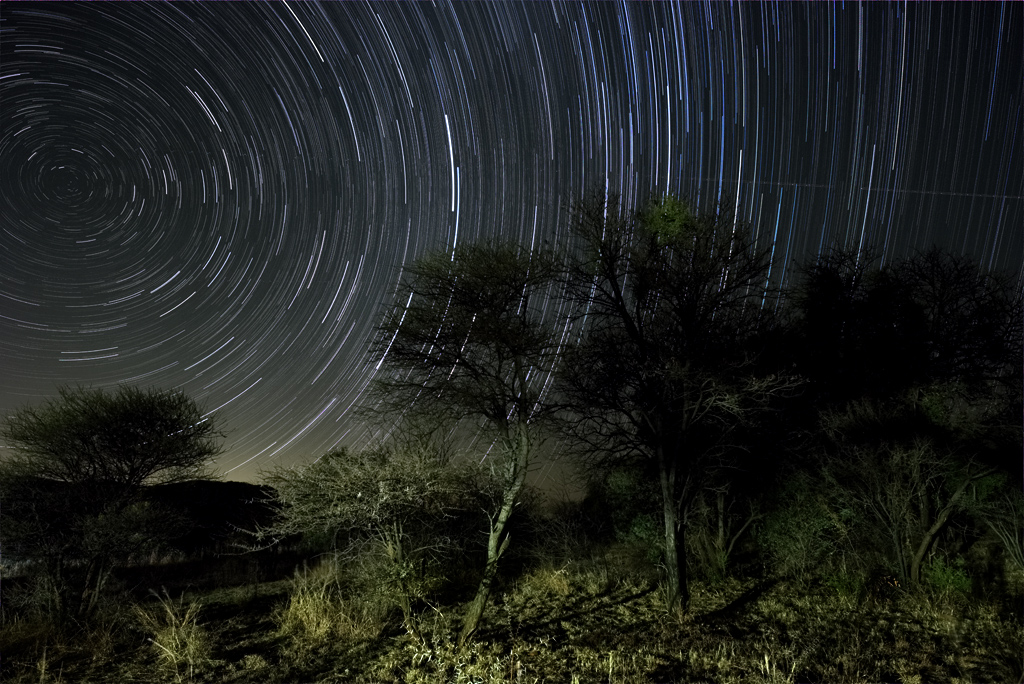 This whole camping trip was a bit of a last minute idea, and as it goes with these type of quick ideas, the planning was not done to the required minute detail - including my idea of a star trail. My biggest oversight was most likely the fact that we were going to camp in a national park, which naturally mean that it is a fenced-off area, so any star trail photography must be done from within the camp site!
I've booked a camping site at Manyane resort but on the Thursday, during a casual conversation at work, Eben Basson mentioned to me that he thinks it is the wrong camp site for a star trail, as Mogwase township is directly south (about 15 kilometres) of Manyane – right in the way of a possible inclusion of the South Celestial Pole in any photograph. These townships are notorious for having huge, highly elevated flood lights instead of normal street lights. A quick look at "The Photographer's Ephemeris" confirmed this theory and an hour later I have changed our booking to Bakgatla resort, much further north with the whole Pilanesberg nature reserve stretching out towards the south.
On Friday night we did some scouting and found that the campsite is unfortunately very well lit, which is a major problem for a star trail photograph. But we decided to give it a in any case a go on the Saturday night. We selected the darkest south spot in the camp site, and after some tests, I decided that we will need to use the series-of-photos-with-stitching technique. The ambient light was so much that we had to settle for 30 second intervals, but in order to brighten the stars a bit, I changed my normal F8 to F5.6 (when focusing on some subject in the foreground, the F5.6 will blur the stars a bit more, rendering them as thicker lines).
After setting up the composition with the available trees of the camp site, Xiaoyi asked me to confirm her focus as she does not see so well at night. I checked and confirmed that her focus selected on the trees was correct. I also helped Lyn to ensure all her settings were okay. This was Lyn's first star trail photo.
Using the built-in interval timer of the Fujifilm cameras we used the following settings:
Interval: 3 seconds
Number of times: 120
Start waiting time: 0
The camera itself were set to F5.6 and 30 second exposures.
With my newly acquired knowledge regards battery usage, make sure you are using the back LCD screen before you start the process as this will consume less battery power then the EVF.
After confirming the settings we all started at the same time. Because of the ambient light, we decided not to do any extra foreground light painting, the campsite's flood lights was already too much!
Lyn and Xiaoyi went for a shower while Arie and I watched the cameras. At about 21:36, to our horror, we saw an airplane passing over, right across the field of view of our south pointing cameras! A check on the flight schedule for Lanseria airport confirmed that this was indeed flight MN 493. Lanseria International Airport is about 90 KM directly south of our current position.
Back at home the next week, we found that Xiaoyi's photos were totally out of focus. The only explanation for this is that she forgot to switch to manual focus, so when we started photographing the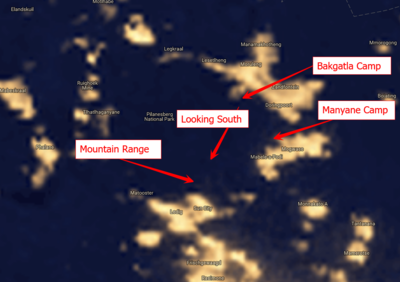 A night view of the Pilanesberg national park and surroundings showing the light pollution. From http://www.nightearth.com/ [702]actual start trail, the camera tried to re-focus and with the very dark scene, did not manage to obtain focus.
All these mishaps actually does help, it is all part of an ongoing learning experience.
These are the top 3 things I learned from this specific star trail experience:
Check for light pollution. Use a website such as NightEarth.com to check for light pollution in the area where you plan your star trail photo session.
Check for major airports and flight paths that might be in your field of view. They could ruin your otherwise very well planned photograph!
Do the last minute obvious checks.

Make sure you switched to manual focus.
Select an appropriate white balance (I nowadays prefer incandescent light white balance as it renders the sky a blueish colour).
When using the interval timer, make sure long exposure noise reduction is switch off. When doing a very long single exposure, make sure long exposure noise reduction is on.
Make sure you have a fully charged battery. (At least this was not a problem on this session!)
For more star trail tips, download my star trail e-book and star trail quick cheat sheet from the
download
page.
---
(If you have read up to here and did not click on a photo yet, do so to see them in larger format and also to browse through the rest of this gallery)
---