I was lucky not to have clouds
Published on: 23rd Jul 2017
In Travel
In my previous article, I talked about the visit to Wepener and the cloudless skies. Sometimes I yearn for a cloudless sky but am afraid to outer the words.
---
The South African winters (almost all but the Western Cape) are known for their cloudless skies.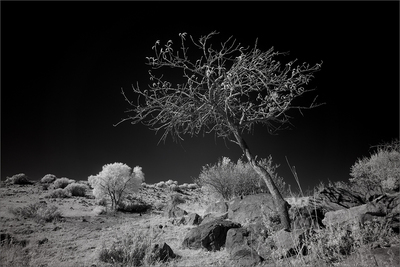 I took this photo while scouting for a startrail sight. [866] We normally only see clouds when a cold front is moving in, and then also only for a very short while - sometimes only for a few hours.
(Last week Wednesday (19 July 2017) we had this exact phenomenon with the most amazing cloud formations moving over Johannesburg - between 10 am and 1 pm - and then we were back at having a cloudless intense blue sky.)
Planning our trip to Wepener the weather forecast did predict a cold front for the area, but it was to reach Wepener only on the Saturday afternoon.
Looking at my moon phase calendar for the Friday night I noticed that we are at Last Quater of a waning moon which is only 57% of normal visibility and that it will only rise above the horizon 20 minutes before midnight. This left me with the opportunity to plan a star trail photo session for the Friday night.
Friday afternoon after lunch I decided to go out scouting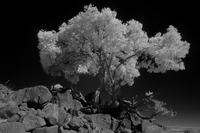 Yes, this is a straight-out-of-camera Jpeg file using the 850nm infrared filter and monochrome setting in camera - not editing (not even levels adjustment) [867]for a good spot to capture a star trail. There were no clouds in sight and I was not really out to photograph anything in particular, but because of the intense sun and cloudless pure blue sky, I decided to drive around with my infrared camera. (Because the blue sky is reflecting very little infrared light, if any at all, the sky will turn out being very dark or almost pure black - this is one of my techniques to turn a bland cloudless sky into something not seen every day.) I fitted the 850nm infrared filter to give me even a more monochromatic look. I used a saved custom white balance I have created previously for the 850nm infrared filter. Looking through the Fujifilm electronic viewfinder it was hard to see any colour,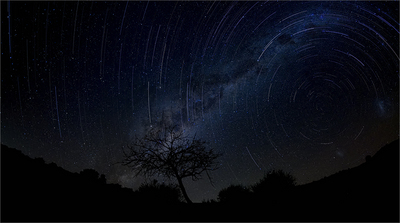 A Startrail photo combined with a high ISO photo of the milkyway taken in the mountain behind Wepener [868]even though the camera was not set to the monochrome film simulation. With the 850nm filter attached, the leaves of trees really became a pure white. I decided to play a game of "spot-the-monochrome" by switching the camera back and forth between monochrome film simulation and Classic Chrome colour film simulation to see whether I can spot the difference. If you look closely at the photograph of the little dead tree[866] - especially in the bottom right corner - you will notice that this is actually a colour photo, not a monochrome photo. I processed this photo in my RAW converter, but I could, in fact, do very little to the photo. This little tree also ended up being my foreground subject for the star trail photo later that night[868].
The photo of the tree with the white leaves is a resized jpeg straight out of the camera (please do not tell Francois Roux that I posted a photo taken in Jpeg...). I did no post processing on it, just resized it for publishing on my website.
On Saturday afternoon, just about at 4 pm, the first clouds of the cold front appeared. The sunset was worth the wait.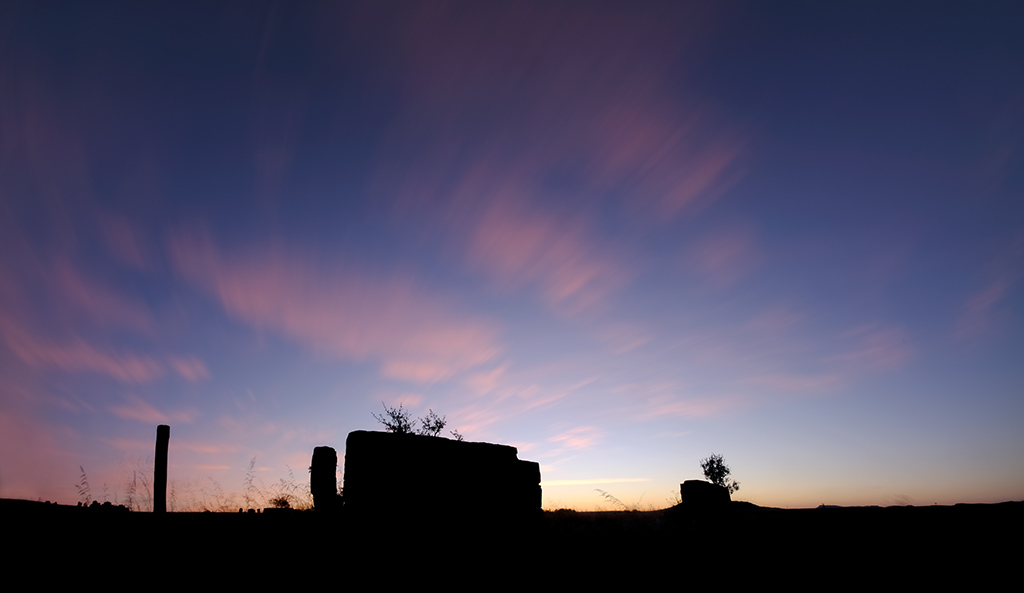 Sunday morning was cloudless like all the days before...
---
(If you have read up to here and did not click on a photo yet, do so to see them in larger format and also to browse through the rest of this gallery)
---