Merry Christmas Shenzhen
Published on: 7th Aug 2017
I do not normally photograph homeless people or beggars, but this specific time I could not resist taking a photo.
---
Ibarionex Parello, host of The Candid Frame, in one of his videos says that the three things he concentrates on when photographing in the streets are "Light, Setting and Gesture".
This photograph, which I took last December, a couple of days before Christmas in Shenzhen, is one of a few where I managed to get all three these elements working together.
The Christmas setting is supposed to be a joyful period, and photographing a homeless person in such a setting is giving a message of desperate times with nothing to celebrate and loneliness with nobody to share this joyful festive season.
The dim light in front of this shop window with a spotlight on the words "Merry Christmas" further emphasises his desperateness.
But the most important element for me is the gesture. The gesture of the character in the window looking with big eyes and a timid smile towards the homeless man while he is counting his money. This gesture is further emphasised by the character on the LCD display of what seems to be a vending machine, almost as if he is saying "There you have it!".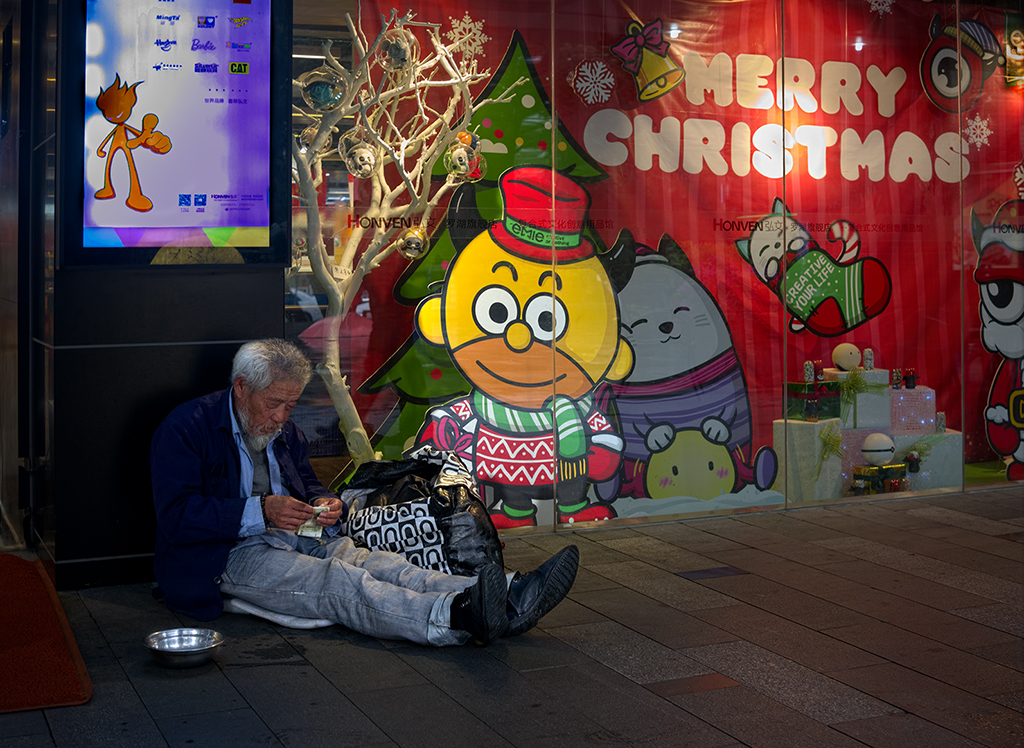 Seeing beggars and homeless people in China is not something one sees very often. This does not mean that they do not exist as I am certain they are part of China just as they are part of almost all communities around the world. I have seen a number of beggars playing music and singing to the public, and even once saw children who were obviously used by their parents to beg, but as it is against the law to beg they do not do it so openly and they will quickly disappear when a person of law is in the surrounding area.
After photographing him, I made a contribution which hopefully helped to make his Christmas a little bit better. But, like with many beggars, this could just be his regular spot which happened to be decorated for Christmas, and maybe, just maybe, I will see him in the same spot this coming December on returning to Shenzhen for Christmas...
---
(If you have read up to here and did not click on a photo yet, do so to see them in larger format and also to browse through the rest of this gallery)
---