2014 China Qinghai Sanjiang yuan (Three Rivers) International Photography Festival
Published on: 15th Jul 2014
In Exhibitions
The 2014 China Qinghai Sanjiang yuan (Three Rivers) International Photography Festival took place in Xiningin (in the northwest China province Qinghai) from July 12 to 15. Xiningin form part of the ancient silk road. The Yangtze, Yellow and Lancang rivers all rise from the Qinghai-Tibet Plateau (thus the "Sanjiang yuan" name of the festival).
---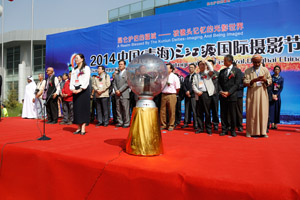 China Photographers Association (CPS) Secretary-General Gao Qin gives a speech
This event was first launched in 2006, with the goal of promoting ecological and cultural photography. This year saw the fifth festival. It was organized by China's State Council Information Office, China Federation of Literary and Art Circles, China Photographers Association (CPA), the provincial propaganda department, the provincial Photographers and the China Mobile Qinghai company.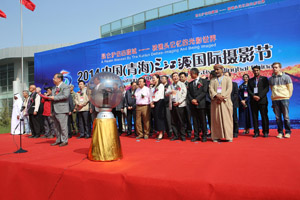 Minister of Provincial Publicity Jidimajia at the opening the festival.
More than 10,000 photographs were on display. Miss Guo Jing, Art director of the Shangtuf Image and Art club curated exhibitions from 31 international organizations and individual photographers from around the world including the United States, Germany, Britain, Italy, South Africa, Kuwait, Canada, Argentina, the United Arab Emirates, Greece and the Ukraine.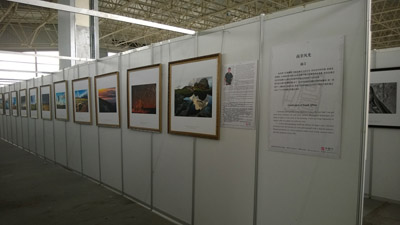 Part of my exhibition - Landscapes of South Africa. Click on a photo to see more more photos in this gallery Overall more than 680 photographers from more than 60 countries participated in this exhibition.
I was invited to exhibit a set of my South African landscape photographs, but due to prior commitments I could not attend the festival. During the 'negotiations' of what needed to be included in my panel of photos, we had a small misunderstanding: After we agreed on the photos for the panel I received an email from Miss Guo Jing telling me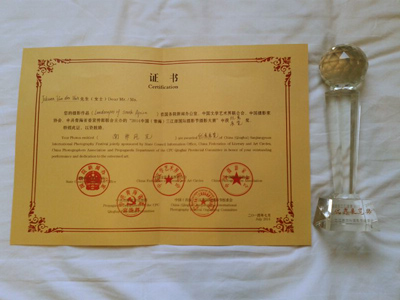 2014 Qinghai Photography Festival - Best of Show Award "Your exhibition is 1 meter by 1 meter". Based on photos I saw on the internet of the previous year's exhibition halls, I thought by myself that this was a lot of effort to just exhibit a panel of 1x1 meter - it will look dwarfed amongst all the other exhibitions! Most probably one can fit 4 photos in a panel of 1x1 meter. But I left it there... On the last day of the festival I received an email congratulating me on my success at the exhibition.
"Dear Johann, Qinghai International Photography Festival has made a great success as well as the exhibitions. Your exhibition, South African Landscapes, won the Best Show Awards this year, congratulations!"
What a wonderful surprise! Later I received photos of the exhibition, and it is only then that I realised that my exhibition consisted of 33 landscape photos, each framed 1 x 1 meter! Now I wish circumstances was so that I could have attended the exhibition.
(If you have read up to here and did not click on a photo yet, do so to see them in larger format and also to browse through the rest of this gallery)
---