Exhibition - May 2014
On 29 April 2014 the presidents of South Africa and China, President Jacob Zuma and President Xi Jinping, announced a special cultural exchange programme between South Africa and China for 2014 and 2015. Many activities will be planned for these two years, and this exhibition was a typical example of such a cultural exchange activity. Between the Photographic Society of South Africa, the Shangtuf Image and Art Club in China, and the South Africa China Peoples Friendship Association, a selection of 160 works from 85 photographers were made to form this exhibition.
Although we as PSSA do much for photography in South Africa, I feel that we still do not do enough to share our photography with our fellow South Africans and the rest of the world. I know the internet has changed the way we share information in modern times, but if we only share our work and ideas on the internet, we are missing a great number of people that do not have access to the internet.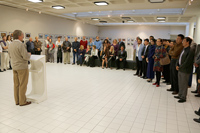 We specifically chose the art.b art centre in Bellville for this exhibition, because as a community centre, it is seen by many more people on a daily basis than just a small group of photographers. I am sure this is what our presidents had in mind when they announced a cultural exchange program!
At the opening ceremony which took place on 17 May 2014, we had a number of distinguished guests, namely, Consul Yong Zhang from the consulate of the People's Republic of China in Cape Town, Mr Allie Baderoen from the SA China Peoples Friendship Association in Cape Town, Johan Kloppers, Regional director of the PSSA for the Western Cape,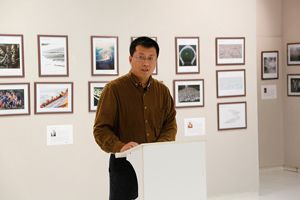 Hein Hough of Fujifilm South Africa (Fujifilm South Africa was our exhibition sponsor) and several chairmen and representatives of the photographic clubs in the Western Cape.
A delegation of 12 of the Chinese photographers as well as many photographers of the surrounding clubs attended the exhibition opening, and even more visited the exhibition during the next two weeks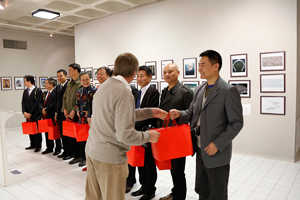 while it was on display in the art centre; but what a pleasant surprise to see that some of my good photographic friends form the north (even so far north as the Bosveld club!) made an effort to attend this very special occasion. Only afterwards I noticed that we did not take a special group photo of the "Northern Photographers" (sorry Dudley, Johan, Tania, Kayla-Anne,Tessa and Andre!).
We are currently negotiating with galleries to bring the exhibition to Gauteng as well. Browse through our virtual gallery by clicking on one of the gallery walls below, or click on one of the photos to browse through the photos taken during the opening ceremony.
(Click on a wall to see the virtual gallery with zoomify walls)